1. Lets Know about the Breast Cancer?
Breast cancer is a type cancer that grows in the cell of the breasts. The cancer that forms when the cells begin to grow out of control. Breast cancer can often be seen on an x-ray or felt as a lump, forming a tumor in the breast. Most breast lumps are not malignant (non cancerous), but are benign. Non Cancerous breast tumors grow and does not spread outside the breast. Non cancerous tumors are not life threatening. On the other side, some types of benign can increase the risk of forming tumor or breast cancer. Breast cancer is the most common type of cancer in females than mens. A famous quote by breast cancer surgeons in India "Cancer can affect you, but not your Soul".
2. How and Where Breast Cancer Starts?
When the cells of the breast begin to grow abnormally, breast cancer occurs. These cells divide rapidly into more new cells, continue to accumulate that form lump or mass in the women's breast. Breast cancer can start from different part of the breast, most of the breast cancers often begin in the milk producing ducts that carry milk to the nipple, also known as Invasive Ductal Carcinoma. Phyllodes tumor and Angiosarcoma are other types of breast cancer which are less common. Phyllodes tumors are those tumors that form from the periductal stromal cells of the breast and are typically large and fast growing masses. The cancer that forms in the lining of the lymph and blood vessels is known as Angiosarcoma.
3. What are the Early Signs of Breast Cancer?
It is important to know how your breast normally looks and feels, as it helps to understand the changes in your breast and to know the early signs of breast cancer. The changes can be seen as a new lump or mass. Some other signs of breast cancer include-
A new lump or mass in the breast (either painful or painless)
Change in the size or color of the breast skin or nipple
Skin dimpling or irritation
New Nipple retraction
Swelling in the lymph nodes
Nipple discharge, other than breast milk
If you observe a new lump or any change in your breast, make an appointment with doctor for prompt evaluation.
4. Can you suggest me List of Top 10 Breast Cancer Surgeons in India?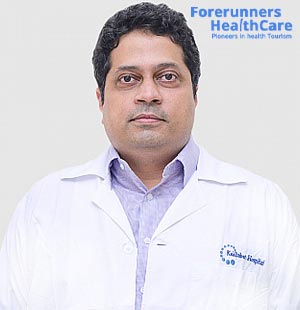 Education: MBBS, MS & DNB
Experience: 10 years
Specialty: Breast and Colorectal Oncology
Dr. Prashant Pawar – Top Breast Cancer Surgeons in India
Education: MBBS, MS (ENT), Diplioma – Otorhinolaryngology
Experience: 11 years
Specialty: Endoscopic skull base surgery for Benign and Malignant tumors, Head and Neck Onco Surgery
Dr. Ashok Vaid – Top Breast Cancer Specialist in India
Education: MBBS, MD ( General Medicine), DM( Medical Oncology)
Experience: 28 years
Specialty: Lymphomas, Solid Tumors and Organ-Specific Cancer Treatment
Dr. Akshay Tiwari – Best Breast Cancer Specialists in India
Education: MBBS, MS
Experience: 15 years
Specialty: Cancer care and Oncology
Education: MBBS, MS, MCh, FRCS
Hospital: Manipal Hospital, Bangalore
Experience: 25 years
Specialty: Surgical Oncology, Gynecological Oncology, Robotic Surgery
Education: MBBS, MS (General Surgery)
Hospital: Sparsh Hospital, Bangalore
Experience: 16 years
Specialty: Oncology and Breast Cancer Surgery ,Breast Oncology ,Cancer Surgery
Education: MBBS, DNB (General Surgery)
Hospital: Apollo Hospital, Chennai
Experience: 29 years
Specialty: Surgical Oncology, Trauma Surgery, Endocrine Surgery and Breast Surgery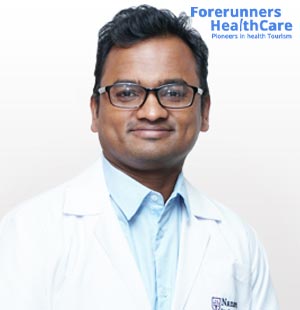 Dr. Praveen Kammar – Top 10 Breast Cancer Doctors in India
Education: MBBS, MS (General Surgery), MCh (Surgical Oncology)
Experience: 9 years
Specialty: Oncology Surgery, Advanced Laparoscopic Surgery, General Surgery, Laparoscopic Surgery, Abdominal Surgery and Robotic Surgery
Dr. Kanchan Kaur – Best Breast Oncology Doctor in India
Education: MBBS, MS (General Surgery) MRCS
Experience:20 Years (16 Years as a specialist)
Specialty: Breast Disease Management (Benign and Cancer), Sentinel Node Biopsies and Breast Cancer Surgeries
Education: MBBS, MS (General), MRCS, Fellowship in Breast Surgery
Hospital: CK Birla Hospital, Gurgaon
Experience:9 Years
Specialty: Breast and General Surgeries
GET THE BEST CANCER TREATMENT FROM OUR TOP DOCTORS WHO WILL HELP YOU OUT FOR YOUR BREAST CANCER SURGERY
YOU CAN SEND YOUR REPORTS ON EMAIL- enquiry@forerunnershealthcare.com
OR REACH OUT TO US ON PHONE NUMBER- +91-9371136499
5. What are the risk factors of Breast Cancer?
Certain risk factors of breast cancer are related to personal behavior and lifestyle such as diet, exercise, having children and consumption of medicines that contain hormones .There are some other factors that are associated with increased risk of having a breast cancer which includes –
Being woman – Females are more likely to have breast cancer that males
Personal or family history of breast cancer or conditions – The chances get high if your mother or sister was diagnosed with breast cancer.
Obesity – Overweight increases the risk of developing breast cancer
Pregnancy at an older age – Female who give birth to her first child after the age of 30
Birth control methods – Using contraceptives or birth control pill have a slightly higher risk of develop breast cancer
6. How can I select Best Surgeons for my Breast Cancer in India?
India is known for its medical facilities, experienced and talented surgeons, well known and hospitals. India has top most cancer surgeons in the world today, we offer best cancer treatment to the patients across the globe. We have top hospitals for cancer treatment which includes hospitals like Apollo, Medanta, Global, Sparsh, Max and Fortis that will provide you with advanced treatment. While selecting the surgeon for your Breast cancer treatment in India, make sure he must possess a blend of skills, personal and professional qualities which include-
The surgeon should be qualified and certified
Years of experience and hospital in which he is working
Communication skills is required to understand the problem of the patients
Effective decision making skills and good organisational ability
Stamina to cope with the demands of surgery is required to the patient
How may surgeries he had performed
Dedication towards the case and treatment
7. What precautions should I have to take after travelling back to my country?
It takes about 2 – 3 weeks to heal your wounds, after that you can travel back to your country. Special care should be taken after the surgery has finished. You can consult with your local doctor to monitor your overall health after you go back to your country.
8. What is the COST of Breast Cancer Treatment in India?
The cost varies widely because every fight against breast cancer is different as the surgery will depend upon your stage, when it is detected, how far it has progressed and which procedure used to cure the cancer. The cost will be dependent on technology used, which surgeon and hospital you choose for your surgery and other expenses. Be rest assured, Forerunners Healthcare will provide you with low cost breast cancer treatment plan in India.
9. Can I know about some of your International Patient who was treated for Breast Cancer Surgery?
Yes, you can know about our international patient treated for breast cancer. We will share with you the experience of our happy patients and their journey will motivate and help you in planning your Breast cancer surgery in India.
OUR INTERNATIONAL PATIENT TREATED WITH BREAST CANCER SURGERY
10. Why I choose Forerunners Healthcare Consultant for my Breast Cancer in India?
Forerunners Healthcare connects you with the best surgeon and hospitals for breast cancer treatment in India. We will provide you high quality treatment at affordable cost with safety standards and best services. The services you will get include-
The world's highest standards of clinical care and surgery
Quick medical visa facilities
Safe and comfortable accommodation
Modernized medical infrastructure
Trained and Experienced staff
Fully Equipped Hospitals with Technologies and safety
24*7 Nursing Care
Zero Waiting Time for Surgery
Highly affordable treatment cost
GET THE BEST OF MEDICAL CARE WITH OUR DOMESTIC AND INTERNATIONAL PACKAGES FOR BREAST CANCER SURGERY IN INDIA