ABO Incompatible (Different Blood Group) Kidney Transplant India
Plan your ABO Incompatible Kidney Transplant in India with Forerunners Healthcare Consultants
ABO-incompatible (ABOi) transplantation is a method of allocation in organ transplantation that permits more efficient use of available organs regardless of ABO blood type. Organ transplants need utmost care with respect to both emotionally and physically. Forerunners Healthcare Consultants is a prominent medical tourism company in India making world-class medical facilities from best surgeons and hospitals accessible for international patients looking for budget-friendly treatment abroad.
How things function at Forerunners Healthcare Consultants?
No compromise : Forerunners Healthcare Consultants and our panel of doctors in India will never compromise with the efforts in surgery to be performed.
Stress-free environment: Our company ensures you remain stress-free from the moment you land in India and till you reach back in your native country.
Communication : We at Forerunners Healthcare Consultants do a detailed study of your needs and send references to respective medical experts accordingly. Be rest assured as the best in field surgeons shall be giving you a new life.
Low cost : The overall expenses, including surgeries, stay, meals, medication, flight tickets, are very much less than most of the countries offering the same state-of-art facilities.
Ready for a vacation : While packing your bags for the surgery, don't forget to load your swimsuits and cameras because after speedy recovery, you will be in for nature's treat.
Overview
Till a few years back, Kidney transplant was and could be done only if the receiver and the donor had the same blood groups. A kidney transplantation is performed as the last sort for renal disease. There is a severe shortage of donor significantly limiting the treatment. ABO Incompatible Kidney Transplant is a revolutionary procedure to overcome donor shortage, immunologic barriers considered as absolute contraindications to transplantation. Kidney transplantation in ABO blood group can expand the pool of donors, and make transplantable organs increasingly available, eventually decreasing the prolonged time on the waiting list for a donor. With a better understanding of related immunologic mechanisms and effective ways to control it, ABO-incompatible kidney transplantation (ABOi KT) is being performed frequently.
What is an ABO Incompatible Kidney Transplant?
ABO (the A, B, AB, O blood groups) Incompatible Kidney Transplant is a transplant in which the patient and donor's blood type are different. Till now, the only option was to identify recipient-donor transplant pairs with compatible blood types. But ABO incompatible kidney transplant is now possible between some recipients and living donors. This may reduce the waiting time for some people who are waiting for a transplant.Before and after a kidney transplant, medical treatment is given to lower antibody levels in the blood and reduce risk of donor kidney rejection. This treatment includes a process of removing anti-bodies from the blood (plasmapheresis), then injecting antibodies into the body to protect the patient from infections (intravenous immunoglobulin), and prescribing other medications that protect the new kidney from antibodies.The key factor for a successful graft outcome is the prevention of rejection, establishing accommodation as early as possible. Accommodation is the absence of an antigen–antibody reaction, despite the presence of 'foreign' antigen within the graft, and presence of antibody in the recipient's blood.
Who is a candidate for ABO Incompatible Kidney Transplant?
The patient needs to be assessed that he/she are medically fit to receive the transplant. If the recipient has a potential kidney donor who has an incompatible blood group, and the doctors know that they are fit to donate, the team will then need to assess the patient's suitability to have the transplant. The recipient will need to have several blood samples taken over 3 months. These samples will be sent to the laboratory to check how high the antibody levels are in the potential donor's blood group. Depending on the results, it may then be possible to proceed with an ABO incompatible transplant.If the recipient's antibody levels are too high at this initial stage, the doctors will not be able to proceed with the transplant, but would ask whether he/she would consider paired donation.
What does the technique involve?
Surgeons will need to remove antibodies against the donor's blood group in order to allow the transplant to take place successfully. It is done by two methods,
The recipient will be given some medication through the vein, which will suppress antibody production. The drug is given 30 days before the transplant and then at the time of transplant, along with other anti-rejection drugs.
The second part is plasma exchange during which, the recipient's plasma (part of the blood) is removed and replaced with new plasma. The plasma contains antibodies and with its removal, the antibody level in the blood will fall. The procedure takes nearly 3 hours.Depending on the patient's need, one of the above procedures will be carried out on alternatedays for 10 days before the transplant and for2 days after the transplant.During this time, blood samples will be takenbefore and after treatment to check whether theantibody measurement in recipient's blood is falling toa level that will allow doctors to proceed withtransplantation.The patient will be able to go home after each plasmaexchange treatment but will beadmitted a few days before the transplant.
Before ABO Incompatible Kidney Transplantation Procedure
Surgeons in doctors are trained in kidney transplantation and the team evaluates you to determine whether a kidney transplant may be safe and beneficial for you, stretching over two or three days with:
Blood, tissue type analysis
Imaging studies, including X-rays
Consultations with specialists for infections, heart disease, other conditions
On receiving approval for a kidney transplant,
Stay in close contact with the transplant center
Notify your transplant co-ordinator of any significant changes in the case of a medical or a social situation.
Maintain good general health. Lose weight if you need to; quit using tobacco products and exercise regularly.
Seek out potential living donors among your close ones. Finding a suitable living donor may accelerate the transplant procedure.
In case, one doesn't find any living donor, waiting time for a kidney transplant may vary as per the blood type, tissue type and several other factors.
How is the ABO Incompatible Kidney Transplant surgery done?
Before the kidney transplant, the patient will have to undergo important blood tests to ensure that his/her body is compatible with the potential donor's organ and to check whether the antibodies in patient's body react to the donor's cells.In certain cases, surgeons may perform a kidney transplant if patient's antibodies react against the donor's cells or if the patient has an incompatible blood type.A kidney transplant surgery is performed under general anesthetic and a special incision pain-blocking anesthetic. An incision is made in the lower abdomen and the donor kidney is placed near the patient's bladder in lower abdomen. Blood supply is restored to the new kidney by connecting the patient's kidney to the blood vessels. The surgeon then attaches the tube connecting the bladder and kidney (ureter) to the bladder. Patient's own kidneys aren't removed. The new kidney often begins to function immediately.
To get free no obligation Quote For Kidney Transplant India :
click here
Phone Numbers Reach Us-
India & International : +91-9860755000 / +91-9371136499
UK : +44-2081332571
Canada & USA : +1-4155992537
After the Transplant
After the transplant is done, the patient usually has to stay in the hospital for three to four days to recover. The transplant team watches the recovery process. The hospital stay is 10 days for the recipient and 5 days for the donor. The post-discharge stay is about 30 days.
Care after transplant - After leaving the hospital, the patient will be monitored for the new kidney function and recovery by the doctors, for two to three weeks.
Follow-up care - The doctor will keep primary health care provider updated about the patient's progress and give recommendations for care at home.
Medications - The patient will need to take immunosuppressant medications for life to keep the body from rejecting the new kidney. The transplant team will also discuss new medications in detail.
Recovery - Patient's returning to wellness after the transplant is the medical team's priority. He/she will have to increase activity through a supervised exercise plan and nutrition plan
Dedication - The transplant team will work with the patient to help make healthy lifestyle choices which the patient will have to follow to achieve an optimal transplant outcome.
What are the risks?
Like other transplants, there is risk of losing the kidney immediately at the time of the treatment due to rejection. It happens occasionally in ABO incompatible kidney transplantation. The risk is higher than in ordinary transplant.The risk of rejection after surgery applies to all transplants, but is slightly higher in ABO incompatible transplants. At least 70 out of 100 of transplants continue working a year after surgery as compared to 90 - 95 out of 100after ordinary living donation.
Why choose India for ABO Incompatible kidney Transplant?
Due to medical advances and newer technologies, transplanting across any blood group is now possible in India. ABO Incompatible Kidney Transplant in India is performed through cutting - edge clinical solutions, research, extraordinary patient care and infrastructure of world-class standards. This has addressed concerns of many patients and has helped them get rid of complex and most end stage kidney diseases.
Kidney transplant is a complex surgical exercise and needs highly skilled consultants, ingenious technical staff and advanced technology working with enormous dedication, perfect harmony and teamwork. India offers a one stop solution for all those seeking critical procedures such as kidney transplantation involving world's best kidney transplant surgeons.
Cities in India that offer ABO Incompatible Kidney Transplantation surgery are as follows;
| | | |
| --- | --- | --- |
| Mumbai | Hyderabad | Kerala |
| Delhi | Pune | Goa |
| Bangalore | Nagpur | Jaipur |
| Chennai | Gurgaon | Chandigarh |
ABO Incompatible Kidney Transplant Surgery Cost Comparisons: India VS Other Countries (USA, UK, Thailand, & Singapore)
India is the most preferable destination for patients who are looking for low cost ABO Incompatible Kidney Transplant Surgery. The cost of the ABO Incompatible Kidney Transplant Surgery in India is typically a fraction of the cost for the same procedure and care in the US and other developed countries.
Comparing ABO Incompatible Kidney Transplant Surgery cost in India with the same treatment procedure in other countries, the price for surgery would be 30-50% lower. The cost can vary depending on the type of surgery required and other medical conditions of a patient.
Patient Testimonial – ABO Incompatible Kidney Transplant Surgery done in India for Ms. Sarah Taylor from UK

Ms. Sarah Taylor from UK

I feel blessed to be connected to Forerunners Healthcare, a medical tourism company well connected to a huge network of reputed doctors and surgeons of India. Moreover, a warm connection with all the travel networks for easy commuting of patients and topmost hospitals equipped with the most advanced technologies. When I went there for my ABO incompatible kidney transplant surgery a relaxing and sere environment along with world-class treatment was what I received.
The costs of the ABO Incompatible Kidney Transplant Surgery based on the type of the surgery required in various countries in the chart / table are given below. The price comparison is given in USD.
| | | | | | |
| --- | --- | --- | --- | --- | --- |
| | USA | UK | India | Thailand | Singapore |
| Cost of ABO Incompatible Kidney Transplant Surgery | $48,000 | $35,000 | $18,000 | $22,000 | $27,000 |
*The price for the ABO Incompatible Kidney Transplant Surgery is an average collected from the 15 best corporate hospitals and 10 Top Neurosurgeons of India.
*The final prices offered to the patients is based on their medical reports and is dependent on the current medical condition of the patient, type of room, type of surgery, hospital brand and the surgeons expertise.
How to get Low Cost ABO Incompatible Kidney Transplant Surgery in India?
We have worked out special packages of the ABO Incompatible Kidney Transplant Surgery for our Indian and International patients. You can send us your medical reports to avail the benefits of these special packages.
You would be provided with 3 TOP RECOMMENDED SURGEONS / HOSPITALS FOR YOUR ABO INCOMPATIBLE KIDNEY TRANSPLANT SURGERY in India.
CLICK HERE
How many International patients came to India for ABO Incompatible Kidney Transplant Surgery?
The list of TOP 15 countries from where the ABO Incompatible Kidney Transplant Surgery Patients travelling to India are given below. The major reason of large number of patients travelling to India for medical treatment from these countries is because of availability of top kidney transplant surgery hospitals in India, affordable prices and very good air connectivity, tourism options and many more reasons.
The maximum number of patients for ABO Incompatible Kidney Transplant Surgery come from – USA, UK, Canada, Australia, New Zealand, South Africa, Kenya, Nigeria, Saudi Arabia, Sri Lanka, Bangladesh, Uzbekistan, Turkmenistan, Afghanistan, Oman.
Here are the approximate percentage wise distributions of the patients coming from Top 15 countries to India in 2017 for ABO Incompatible Kidney Transplant Surgery.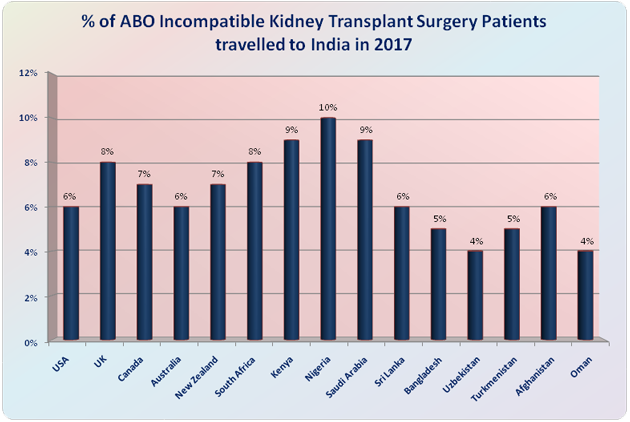 ARE YOU ALSO A PATIENT WANTING TO TRAVEL TO INDIA FOR ABO INCOMPATIBLE KIDNEY TRANSPLANT SURGERY?
You can contact us and share your medical reports with us.
Our International Patient Executive would connect with you and answer all that you need to plan your ABO Incompatible Kidney Transplant Surgery in India.
We would provide you with TOP RECOMMENDATIONS and assist your with the surgery planning.
CLICK HERE
Some of the common countries from which patients travel to India for surgery are:
| | | |
| --- | --- | --- |
| USA | UK | Canada |
| Australia | New Zealand | Nigeria |
| Kenya | Ethiopia | Uganda |
| Tanzania | Zambia | Congo |
| Sri Lanka | Bangladesh | Pakistan |
| Afghanistan | Nepal | Uzbekistan |
Below are the downloadable links that will help you to plan your medical trip to India in a more organized and better way. Attached word and pdf files gives information that will help you to know India more and make your trip to India easy and memorable one.
How can I get best low cost ABO incompatible kidney transplant in India?

ABO-i Kidney Transplant is a complicated procedure and must be received only under highly-skilled and excellent surgeons. Send us your query and medical reports, and we will find the best affordable facility for you.

What are the risks?

There are minor chances of losing the kidney immediately at the time of the treatment from rejection due to different blood group antibodies.

Are there any age restrictions on receiving a kidney from an ABOi donor?

There are no strict age restrictions, however, the potential recipient must be in good general health.

How long does the evaluation for ABOi transplantation take?

Evaluation is determined by the donor assessment. The overall time frame is 6-18 weeks depending on many factors.

How long is the hospital stay after the transplant?

General hospital stay for the recipient is between 5-10 days. Donors are usually in hospital for about 3-5 days.
To get free no obligation Quote For Kidney Transplant India:
click here
Phone Numbers Reach Us-
India & International : +91-9860755000 / +91-9371136499
UK : +44-2081332571
Canada & USA : +1-4155992537
incompatible kidney transplant india, abo incompatible kidney transplant india, cost of incompatible kidney transplant india, forerunners healthcare consultants india, india, kidney transplant india, different blood group kidney transplant india, kidney transplant mumbai, renal transplantation across abo barrier