NOT ABLE TO TRAVEL BECAUSE OF TRAVEL RESTRICTIONS?
Free Video Consultation Available

FOR ALL INTERNATIONAL PATIENTS

Medical Call Arranged within 24 Hours
Surgeons Panel from Top Hospitals of India
Please Send Your Medical Reports in Advance
1st Call Free of Cost
Ask For Consult
Ovarian Cancer Treatment and Surgery in India at Affordable Prices
Plan your Ovarian Cancer Treatment and Surgery in India with Forerunners Healthcare Consultants
Ovarian Cancer is the cancer of ovaries, a reproductive organ in a women's body. Dealing with cancer can be emotionally as well as physically draining and early recovery is the biggest prayer. Forerunners Healthcare Consultants teams with the best ovarian cancer hospitals in India and best doctors for ovarian cancer in India to provide quality healthcare services. All you have to do is send us a query and sit back and relax.
How things function at Forerunners Healthcare Consultants?
Speicalized panel : Forerunners Healthcare Consultants have an association with highly-efficient surgeons and doctors, a prerequisite in treating any medical condition.
Principal care : We offer assistance in arranging medical visa, accommodation for the patient and family, meals, appointment with surgeon.
Budget-friendly : Financial aspects affect medical treatments in a huge way, and our budget friendly packages are preferred by many international patients seeking ovarian cancer treatment and surgery in India.
Professionalism : Ovarian Cancer Treatment in India through the Forerunners Healthcare Consultants ensures the utmost care in maintaining quality and ethics while serving a patient.
Our other services : We also take care of quick visa letters, health diet as advised by your attending surgeon, to and fro airport travel, vacation tour, etc.
International Patient Experience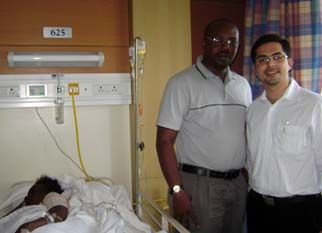 Robinson's mothers
Ovarian cancer surgery in India
My name is Robinson, from Nigeria. My mother was suffering from Ovarian Cancer since last 2 years. Due to lack of healthcare in Nigeria, I looked for help abroad and found Forerunners Healthcare Consultants. After exchanging information and queries, we reached India for her surgery. The doctors were best in class and the surgery was successful. I sincerely thank the Forerunners team.
What is Ovarian Cancer?
Ovarian cancer is cancer that develops in the ovaries. The ovaries are part of a woman's reproductive system. They are located in the pelvis on either side of the uterus. Each ovary is about the size of an almond. The ovaries make the female hormones progesterone and estrogen and also release eggs into the fallopian tubes.
What are the Types of Ovarian Cancer?
Epithelial ovarian cancer - Within epithelial ovarian cancer, there are six subtypes. Each is derived from a different type of tissue in the lower genital tract or Mullerian tract. However, within invasive cancers, there is not a great deal of difference in prognosis for the first three and the distinction is mainly a pathological one.
Serous - This form accounts for around 70% of cases and is therefore the most common type.
Mucinous - This accounts for a further 10%. These tumours have a slightly worse prognosis than serous tumours.
Endometrioid - These tumours (5%) are more likely to be associated with disease in the uterus (womb) and sometimes an ovary is found to be affected when a woman is diagnosed with endometrial cancer.
Clear cell - These tumours (around 3-4%) have a poorer prognosis and tend to behave more aggressively.
Boderline Tumour - 10-15% of ovarian cancers are borderline tumours, also known as tumours of low malignant potential. They tend to remain confined to the ovary for long periods and usually occur in premenopausal women.
Germ cell tumours - Germ cell tumours of the ovary make up 3% of malignant ovarian tumours, so they are rare, just one-tenth as common as germ cell tumours of the testis.
Best Ovarian Cancer Hospitals in India
The best ovarian cancer treatment centers India provide premier diagnostic and treatment services. Our world class diagnostic services help to detect and diagnose the cancer with great precision. The best ovarian cancer doctors and the top hospitals for ovarian cancer offers you the best kind of treatment depending on your specific medical case including the type of ovarian cancer, its stage and other medical conditions.
What are the Causes of Ovarian Cancer?
The cause of ovarian cancer is not known.
What are Risk Factors related to Ovarian Cancer?
Child-bearing history - Women who have not had children are slightly more likely to develop ovarian cancer than women who have, although the risk is still very low.
Hormonal factors - Starting your periods early or having a late menopause slightly increases your risk of ovarian cancer. Using hormone replacement therapy (HRT) can slightly increase the risk.
Infertility - Some research has shown that infertility may slightly increase the risk of developing ovarian cancer.
Health factors - Having endometriosis – a condition where the womb lining grows outside the womb – may increase your risk of ovarian cancer.
Diet and body weight - Being overweight may increase your risk of developing ovarian cancer. Eating a diet high in animal fats and low in fresh fruit and vegetables may also increase your risk.
Genetic factors - Certain defects in the genes (BRCA1 and BRCA2) are responsible for a small number of ovarian cancer cases. Women with a personal history of breast cancer or a family history of breast or ovarian cancer have an increased risk for ovarian cancer. About 5–10% of ovarian cancers are caused by the inherited faulty gene in the family.
What are the Signs and Symptoms of Ovarian Cancer?
Research suggests there are four symptoms that may be associated with ovarian cancer:
Bloating
Pelvic or Abdominal pain and heaviness
Difficulty eating or feeling full quickly
Urinary urgency or frequency
Other symptoms may include:
Nausea, indigestion, increased gas, constipation or diarrhea, lack of appetite
Extreme fatigue
Shortness of breath
Backaches
How to do Screening and Diagnosis of Ovarian Cancer? :
While no early detection tool exists for all women, several tests exist for women who are at a high risk. If a woman has ovarian cancer symptoms, a strong family history, or a genetic predisposition such as a BRCA mutation, doctors may monitor her with one of three tests or a combination of them:
Blood Test - A CA-125 blood test is not considered a good screening test for ovarian cancer. However, it may be done if a woman: has symptoms of ovarian cancer or has already been diagnosed with ovarian cancer to determine how well treatment is working
Transvaginal Ultrasound - A transvaginal ultrasound is a test used to examine a woman's reproductive organs and bladder.
Pelvic Exam - A pelvic exam should be a part of a woman's regular female health exam. A pelvic examination may reveal an ovarian or abdominal mass. Ovarian cancer is rarely detected in a pelvic exam and usually it is detected if it is in an advanced stage.
The above tests are most effective when used in combination with each other. Doctors may also use a CT scan or PET scan as part of the diagnostic process, however the only definitive way to determine if a patient has ovarian cancer is through surgery and biopsy. No lab or imaging test has ever been shown to be able to diagnose ovarian cancer in its early stages.
What are various Stages of Ovarian Cancer?
There are four stages of ovarian cancer. Your doctor will determine your stage of ovarian cancer. Ovarian cancer is treated differently depending on which stage you are diagnosed with.
Stage I
The cancer is completely contained within the ovary or ovaries
Stage IA- One ovary involved
Stage IB- Both ovaries involved
Stage IC- One or both ovaries involved, but with cancer on the surface of an ovary, rupture of an ovarian cyst malignant ascites or positive abdominal washings.
Stage II
The cancer is in one or both of the ovaries and has spread to additional organs located in the pelvis, such as the bladder, colon, rectum or uterus.
Stage IIA - Spread to the uterus or fallopian tubes
Stage IIB - Spread to pelvic peritoneum
Stage IIC - Confined to the pelvis, but with malignant ascites or positive abdominal washings
Stage III
The cancer is in one or both ovaries and has spread to one or both of the following: the lining of the abdomen or the lymph nodes.
Stage IIIA - Microscopic spread to the upper abdomen
Stage IIIB - Cancer nodules less than 2 cm in the abdomen
Stage IIIC - Nodules more than 2 cm, or positive pelvic or aortic lymph nodes
Stage IV
The most advanced stage of cancer. The cancer has spread from one or both ovaries to additional organs such as the liver or lungs, or there may be cancer cells in the fluid surrounding the lungs.
What are the Treatments to cure Ovarian Cancer?
Ovarian cancer treatment will depend on a number of factors, including the stage of ovarian cancer and the general health of the patient. The treatment of Ovarian Cancer includes;
Surgery
Chemotherapy
Radiation therapy
Surgery for Ovarian Cancer - Ovarian cancer surgery is the usual initial treatment for most women. There are several types of surgery for ovarian cancer. The type of surgery recommended will depend on the extent of the ovarian cancer.
Following are some examples of Ovarian Cancer Surgery:
Unilateral salpingo-oophorectomy : A surgical procedure to remove one ovary and one fallopian tube.
Bilateral salpingo-oophorectomy : A surgical procedure to remove both ovaries and both fallopian tubes.
Total hysterectomy and bilateral salpingo-oophorectomy : A surgical procedure to remove the uterus, cervix, and both ovaries and fallopian tubes. The types are vaginal hysterectomy, total abdominal hysterectomy, total laparoscopic hysterectomy.
Partial oophorectomy : A surgical procedure to remove part of one ovary or part of both ovaries.
Omentectomy : A surgical procedure to remove the omentum (a piece of the tissue lining the abdominal wall).
Tumor debulking : A surgical procedure in which as much of the tumor as possible is removed. Some tumors may not be able to be completely removed.
Lymph node biopsy : Ovarian cancer staging during surgery (to find out whether the cancer has spread) generally involves removing lymph nodes
Radiation Therapy for Ovarian Cancer - Doctors don't often use radiotherapy to treat ovarian cancer. But occasionally they may suggest it after surgery for stage 1 or stage 2 ovarian cancers. This is to help kill off any cancer cells left behind and so lower the risk of the cancer coming back.
For advanced ovarian cancer, you may have radiotherapy to try to shrink tumours and reduce symptoms. You can have the treatment to any part of the body where the cancer is causing problems. You might hear this called palliative radiotherapy.
Chemotherapy for Ovarian Cancer - Chemotherapy uses anti-cancer or 'cytotoxic' drugs to destroy cancer cells. You are most likely to be offered chemotherapy after your surgery if your cancer is Stage 1C or higher. But you may have it if you have an earlier stage cancer that your doctor thinks may be faster growing (high grade). You can also have chemotherapy for ovarian cancer that has come back after you were first treated. You are most likely to have chemotherapy drugs for ovarian cancer as injections through a vein into your bloodstream. Some research has looked at giving chemotherapy into the abdomen. This is known as intraperitoneal chemotherapy.
What Follow-Up Care to be taken Post Ovarian Cancer Surgery?
Continuous follow-up is essential for all ovarian cancer patients. This includes patients whose disease is in remission after treatment. Although most women who develop a recurrence do so within the first 2 years after treatment, ovarian cancer can reappear up to 20 years later.
After surgery and during chemotherapy, ovarian cancer patients may be monitored with CA125 tests. Rising levels of this protein indicate a recurrence and the need for more therapy. In addition, many doctors routinely perform "second-look" surgery after a six- or 12-month course of chemotherapy. This procedure involves opening the abdomen and taking tissue samples in a search for cancer cells. If additional cancer cells are found, chemotherapy is repeated. "Second-look" surgery is somewhat controversial because additional cancer is often found or the cancer recurs. Opponents of a "second look" advocate continuing chemotherapy instead of subjecting patients to more surgery. Your doctor may also ask for a computed tomography (CT) scan of your chest, abdomen, and pelvic area and a chest x-ray.
What are the Benefits of Ovarian Cancer Treatment and Surgery?
Treatment can be given for different reasons and the potential benefits will vary depending upon your individual situation. In people with early-stage ovarian cancer, surgery is often done with the aim of curing the cancer. You may also be given additional treatments to reduce the risk of it coming back. If the cancer is at a more advanced stage, the treatment may be able to control it, improving symptoms and quality of life.
Following surgery, some patients may benefit from additional treatment with chemotherapy to further decrease the risk of cancer recurrence. Chemotherapy may be beneficial in some women with low-risk stage I ovarian cancer; however, because surgery cures more than 90 percent of patients, it is difficult to demonstrate additional benefit from chemotherapy treatment for all patients.
Recent studies have resulted in recommendations that certain women will benefit from a combination of intravenous and intraperitoneal chemotherapy. A thorough discussion with your physician regarding this type of chemotherapy should include benefit versus risk, as well as side effects. Although side effects can be unpleasant, for most patients the benefits of treatment usually far outweigh the risks and discomforts. It is important to keep in mind that most patients receiving chemotherapy are able to enjoy an active and good quality of life.
Why travel to India for Ovarian Cancer Treatment and Surgery?
Private, state-of-the-art hospitals in India create a setting with many benefits for your ovarian cancer treatment, not only providing a ground-breaking approach to ovarian cancer treatment, but also including access to medical technology and diagnostic tools not readily available in less advanced treatment centers. The program of surgery will begin with an assessment by a multidisciplinary medical team. Indian doctors work with you to establish the parameters of your current medical condition and determine your course of treatment. Health care professionals in Indian Hospitals develop a personalized ovarian cancer surgery plan tailored to your unique needs and diagnosis at a low cost. Ovarian cancer hospitals in India specialize in advanced, minimally invasive techniques that fight cancer while supporting your quality of life, both during and after treatment. Throughout your treatment, Indian ovarian cancer doctors use supportive therapies, like nutrition therapy and oncology rehabilitation, to help preserve more of your quality of life and reduce treatment-related side effects.
Cities in India that offer high quality Ovarian Cancer Surgery in India are :
| | | |
| --- | --- | --- |
| Mumbai | Hyderabad | Kerala |
| Delhi | Pune | Goa |
| Bangalore | Nagpur | Jaipur |
| Chennai | Gurgaon | Chandigarh |
Experience of our Spanish Patient Ms. Rita Gonzalez of her Ovarian Cancer Surgery in India

Ms. Rita Gonzalez from Spain
I had been experiencing the symptoms of ovarian cancer for about a year before I actually was diagnosed with the disease. Once I came to know I was on a quest to find many answers to shivering questions of my mind but then the confused mind came to a calm state when I came across Forerunners Healthcare, a medical tourism company in India. Here my intuitions came into picture, I got my surgery done by a reputed oncologist belonging to this group, and today I have survived almost four years and that too with a healthy baby I delivered after the surgery. Thanks to Forerunner and your entire team.
Ovarian Cancer Treatment / Surgery Cost Comparisons: India VS Other Countries (USA, UK, Thailand, & Singapore)
India is the most preferable destination for patients who are looking for low cost Ovarian Cancer Treatment / Surgery . The cost of the Ovarian Cancer Treatment / Surgery in India is typically a fraction of the cost for the same procedure and care in the US and other developed countries. Comparing Ovarian Cancer Treatment / Surgery cost in India with the same treatment procedure in other countries, the price for surgery would be 30-50% lower. The cost can vary depending on the type of surgery required and other medical conditions of a patient.
The costs of the Ovarian Cancer Treatment / Surgery based on the type of the surgery required in various countries in the chart / table are given below. The price comparison is given in USD.
| | | | | | |
| --- | --- | --- | --- | --- | --- |
| Type of Ovarian Cancer Treatment / Surgery | USA | UK | India | Thailand | Singapore |
| Total Hysterectomy | $20,000 | $16,000 | $3,700 | $4,500 | $5,500 |
| Omentectomy | $15,000 | $12,000 | $3,000 | $3,800 | $4,500 |
| Oophorectomy | $12,000 | $10,000 | $2,700 | $3,500 | $4,000 |
| Tumor Debulking | $18,000 | $15,000 | $3,200 | $4,000 | $5,000 |
*The price for the Ovarian Cancer Treatment / Surgery is an average collected from the 15 best corporate hospitals and 10 Top Oncosurgeons of India.
*The final prices offered to the patients is based on their medical reports and is dependent on the current medical condition of the patient, type of room, type of surgery, hospital brand and the surgeon's expertise.
How to get Low Cost Ovarian Cancer Treatment / Surgery in India?
We have worked out special packages of the Ovarian Cancer Treatment / Surgery for our Indian and International patients. You can send us your medical reports to avail the benefits of these special packages.
You would be provided with 3 TOP RECOMMENDED SURGEONS / HOSPITALS FOR YOUR OVARIAN CANCER TREATMENT / SURGERY in India.
CLICK HERE
How many International patients came to India for Ovarian Cancer Treatment / Surgery?
The list of TOP 15 countries from where the Ovarian Cancer Treatment / Surgery Patients travelling to India are given below. The major reason of large number of patients travelling to India for medical treatment from these countries is because of availability of quality healthcare in India, affordable prices and very good air connectivity, tourism options and many more reasons.
The maximum number of patients for Ovarian Cancer Treatment / Surgery come from – Sudan, Ethiopia, South Africa, Kenya, Nigeria, USA, UK, Australia, Saudi Arabia, Sri Lanka, Bangladesh, Uzbekistan, Turkmenistan, Oman, Iraq.
Here are the approximate percentage wise distributions of the patients coming from Top 15 countries to India in 2017 for Ovarian Cancer Treatment / Surgery.
ARE YOU ALSO A PATIENT WANTING TO TRAVEL TO INDIA FOR OVARIAN CANCER TREATMENT / SURGERY?
You can contact us and share your medical reports with us.
Our International Patient Executive would connect with you and answer all that you need to plan your Ovarian Cancer Treatment / Surgery in India.
We would provide you with TOP RECOMMENDATIONS and assist your with the surgery planning.
CLICK HERE
Some of the common countries from which patients travel to India for surgery are :
| | | |
| --- | --- | --- |
| USA | UK | Canada |
| Australia | New Zealand | Nigeria |
| Kenya | Ethiopia | Uganda |
| Tanzania | Zambia | Congo |
| Sri Lanka | Bangladesh | Pakistan |
| Afghanistan | Nepal | Uzbekistan |
Below are the downloadable links that will help you to plan your medical trip to India in a more organized and better way. Attached word and pdf files gives information that will help you to know India more and make your trip to India easy and memorable one.
Is it safe to get Ovarian Cancer Treatment and Surgery in India?

The medical fraternity in India is famed for excellence, and leads in Cancer surgeries. Thousands of cancer operations are performed in India each year with maximum success rate, making the safety obvious.

Why people Choose India For Ovarian Cancer Treatment and Surgery?

Ovarian cancer hospitals in India specialize in advanced, minimally invasive techniques that fight cancer while supporting your quality of life, both during and after treatment.

How to find the Best Ovarian Cancer Treatment and Surgery in India?

As there are many top class surgeons in India, finding the best can be tricky. Send us your medical report and we will choose from among the best surgeons most suitable for your condition.

How can a woman know if she has ovarian cancer?

There are many symptoms that indicate ovarian cancer, some of which are pelvic or abdominal pain and heaviness, difficulty eating or feeling full quickly, frequent need to urinate etc. Visit our webpage to know more about the disease.

At what age does Ovarian Cancer occur?

It is often found in women between the ages of 40 and 70, and women between 50 and 59 of age, but sometimes it strikes women in their 20s.
To get free no obligation Quote For Ovarian Cancer Surgery in India :
click here
Phone Numbers Reach Us-
India & International : +91-9860755000 / +91-9371136499
UK : +44-2081332571
Canada & USA : +1-4155992537
ovarian cancer treatment and surgery in india, low cost ovarian cancer surgery India, ovarian cancer surgery benefits India, ovarian cancer treatment India, low cost ovarian cancer treatment India, ovarian cancer treatment benefits India, forerunners healthcare india, ovarian cancer treatment cost in india, best ovarian cancer hospitals in india, best doctors for ovarian cancer in india, best ovarian cancer treatment centers India