Low Cost Prostate Cancer Surgery and Treatment India
Plan your Prostate Cancer Treatment and Surgery in India with Forerunners Healthcare Consultants
Prostate Cancer treatment is an intricate process that involves treating cancer of the prostate gland. Cancer needs utmost care with respect to both emotionally and physically. Forerunners Healthcare Consultants is a prominent medical travel partner in India making world-class medical facilities from the best doctors and hospitals accessible for the international patients looking for budget-friendly prostate cancer treatments abroad.
How things function at Forerunners Healthcare Consultants?
No compromise : Forerunners Healthcare Consultants and our panel of doctors in India will never compromise with the efforts in surgery to be performed.
Stress-free environ : Our company ensures you remain stress-free from the moment you land in India.
Communication : We at Forerunners Healthcare Consultants do a detailed study of your needs and send references to respective medical experts accordingly. Be rest assured as the best in field surgeons shall be giving you a new life.
Low cost : What is the prostate cancer surgery cost in India? The overall expenses, including surgeries, stay, meals, medication, flight tickets, are very much less than most of the countries offering the same state-of-art facilities.
Ready for a vacation : While packing your bags for the surgery, don't forget to load your swimsuits and cameras because after speedy recovery, you will be in for nature's treat.
International Patient Experience

Mr. Ben Okoro - Nigeria
Prostate Cancer Surgery in India
Hello I am Ben Okoro, I am from Nigeria. I came to India for my Prostate Cancer Surgery in Bangalore. I was suffering from Prostate Cancer for the past one year, and was getting treatments for the same for the past few months, but the results were not satisfactory. So I decided to have my Prostate Cancer Surgery to be done in overseas. I started searching over the net which led Forerunners Healthcare in India. The entropy provided in the site was more than sufficient to convince my mind to go for my treatment in India and then I started exchanging emails with the representative of Forerunners Healthcare. Without wasting my time I came to India for my Prostate Cancer Surgery under one of the most skillful surgeons. My Surgery was the most wonderful and the most trustworthy experience in my life. I would recommend cancer patients to plan their journey of wellness in India. I thank Forerunners Healthcare for executing my Prostate Cancer Surgery in Bangalore, India under experienced surgeons and physicians.
Overview
Prostate Cancer is the second most common cancer in men worldwide. The number of cases is estimated to go up to 1.7 million by 2030. Prostate cancer is highest in Australia/New Zealand, Western and Northern Europe and North America, and the lowest in Asia. In Africa, the highest rate is in South Africa and the lowest in Northern Africa. This test detects many prostate cancers that are small and /or would otherwise have remained unrecognized. Prostate Cancer is the cancer of the prostate gland in the male reproductive system. Prostate cancer usually develops in men over the age of fifty. In many cases prostate cancer shows no signs or symptoms, as a result, there are no therapy, and eventually causing death due to unrelated causes.
What is Prostate Cancer?
Prostate cancer is the cancer of the prostate gland, a gland in the male reproductive system. The prostate secretes a slightly alkaline milky fluid that constitutes 50–75% in volume of the semen. helps neutralize acidity of the vaginal tract, prolonging sperm lifespan. Most prostate cancers grow slow but there are cases of aggressive prostate cancers too. The cancer cells may spread (metastasize) from the prostate to other parts of the body, typically the bones and lymph nodes. This type of cancer may have no symptoms initially, but can cause pain, difficulty in passing urinating, problems in sexual intercourse, erectile dysfunction, and death in later stages.
What are the types of Prostate Cancer?
Acinar Adenocarcinoma - More than 9 out of 10 prostate cancers are a type called acinar adenocarcinoma. Mostly everyone diagnosed with prostate cancer has this type of prostate cancer that starts from gland cells in the prostate. Most of these cancers grow slowly and are not likely to spread, while some grow more quickly.
Ductal Adenocarcinoma - This prostate cancer starts in the cells that line the tubes of the prostate gland. It grows and spreads rather quickly than the above type. As a result, some men are at an advanced stage of prostate cancer when they are diagnosed.
Transitional cell - They start in the cells that line the urethra. This type of cancer may also start in the bladder and spread into the prostate. This type of prostate cancer may spread into the bladder entrance and into nearby tissues.
Squamous cell cancer - This type of prostate cancer starts in the flat cells covering the prostate gland. This type grows and spreads more quickly than adenocarcinoma, being at an advanced stage by the time diagnosed.
Carcinoid - These tumors start in cells of the neuroendocrine system, the system made up of specialized nerve and gland cells. They are very rare and seem to grow slow. They usually do not cause any symptoms for many years.
Small cell cancer - It is a type of neuroendocrine tumor and is made up of small round cells. Men having this type of cancer may not have a raised PSA test. This makes it more difficult to pick up early and has reached the advanced stage by the time it is diagnosed. They grow and spread more quickly than adenocarcinoma.
Benign prostatic hyperplasia (BPH) - It is a common, benign type of tumor of the prostate. In this type, the prostate grows larger and squeezes the urethra, and prevents the normal flow of urine. For some men, the symptoms are severe enough to need treatment or surgery.
Sarcoma / Sarcomatoid cancer - These start from muscle cells and often grow quite quickly. The most common type in men is leiomyosarcoma, between the ages of 35 and 60. Sarcomatoid cancers are a mixture of sarcoma and adenocarcinoma cells.
Best Hospitals for Prostate Cancer Surgery in India
The top hospitals for prostate cancer surgery in India are equipped with state of the art diagnostics to provide a wide range of cancer treatments. Our best doctors for prostate cancer in India will evaluate and discuss the findings to chart out the optimal plan of prostate cancer treatment for each patient based on established national and international guidelines and protocols. Our associated hospitals are located at Delhi, Chennai, Mumbai, Nagpur, Pune, Kochi, Jaipur, Chandigarh, Kochi, Goa, Bangalore, Noida, Gurgaon, Hyderabad, Ahmedabad, Kerala, etc.
Top 10 Prostate Cancer Treatment Hospitals in India
Artemis Hospital, Gurgaon
Fortis Memorial Research Institute, Gurgaon
Columbia Asia Hospital, Bangalore
BLK Max Hospital, New Delhi
Kokilaben Dhirubhai Ambani Hospital, Mumbai
Jaslok Hospital, Mumbai
Fortis Hospital, Bangalore
Global Hospitals, Mumbai
Manipal Hospital, Bangalore
Medanta -The Medicity Gurgaon
Max Super Speciality Hospital, New Delhi
Nanavati Super Specialty Hospital, Mumbai
Consult the Best Prostate Cancer Treatment Hospitals in India
Click Here
List of Best Prostate Cancer Treatment Hospitals in India
Manipal Hospital, Delhi
Lilavati Hospital And Research Centre
MGM Healthcare, Chennai
Paras Hospitals, Gurgaon
Fortis Malar Hospital, Chennai
Indraprastha Apollo Hospital, New Delhi
Fortis Hospital, Chennai
Aster CMI Hospital (Hebbel) Bangalore
Columbia Asia Hospital, Gurgaon
CK Birla Hospital, Gurgaon
Narayana Super Specialty Hospital, Gurgaon
Breach Candy Hospital Mumbai
Fortis Hospital, Mulund, Mumbai
Gleneagles Global Health City Chennai
BGS Gleneagles Global Hospitals, Bangalore
MIOT International, Chennai
Manipal Hospital, Mumbai
Apollo Cancer Specialty Hospital, Chennai
Hiranandani Hospital Mumbai India
Saifee Hospital Mumbai India
Top 10 Prostate Cancer Surgeons in India
Dr. Rajesh Ahlawat
Dr. Ashish Sabharwal
Dr. Mohan Keshavamurthy
Dr. Narmada Prasad Gupta
Dr. Anup Ramani
Dr. Sanjay Gogoi
Dr. Vikram Sharma
Dr. Jagdeesh Kulkarni
Dr. Yuvaraja TB
Dr. Aaditya Pradhan
Dr. Avanish Arora
Dr. Anant Kumar
Consult the Best Prostate Cancer Surgeons in India
Click Here
List of Best Prostate Cancer Surgeons in India
Dr. Gagan Gautam
Dr. T.V Seshagiri
Dr. Surajkumar K Agrawal
Dr. Sameer Kaul
Dr. Kamal Verma
Dr. MH Kamat
Dr. Percy Chibber
Dr. Vinod Raina
Dr. Ajay Kumar
Dr. Dilip C Dhanpal
Dr. S.V. Kotwal
Dr. PVLN Murthy
Dr. Sanjay S Nabar
Dr. Arun Behl
Dr. Sandeep Batra
Dr. Amit Goel
Dr. Praveen Kumar Garg
Dr. Suman Karanth Gupta
What are the causes of Prostate Cancer?
Age - It is quite rare in men under 50, and more than half of the cases are diagnosed in men over 70.
Family history - Having a history of a Prostate cancer in family raises your risk 2 to 3 times more, compared to the average man.
Ethnicity - It is more common in Caribbean and African men than in white or Asian men.
Vasectomy - Men who have undergone vasectomy are at a slightly increased risk of prostate cancer.
Sexual factors - Some case studies show that having multiple lifetime sexual partners or starting sexual activity early in life increases the risk of prostate cancer.
What are the symptoms of Prostate Cancer?
Painful, frequent urge to urinate, especially at night
A sense of not being able to completely empty the bladder
Pain during ejaculation
Difficulty passing urine, including straining to pass it or stopping and starting
Blood in the urine or semen
Low Back Pain, swelling in the Legs
How is the diagnosis of Prostate Cancer done?
Digital Rectal Exam (DRE) : The doctor inserts a gloved, lubricated finger into your rectum to examine your prostate, which is adjacent, to detect structural anomalies, if any, in the prostate.
Prostate-Specific Antigen (PSA) Test : A blood sample is taken from a vein in your arm and examined for PSA, a substance naturally produced by the prostate gland. A small amount of PSA in your bloodstream is normal, but if the value increases the cause needs to be located.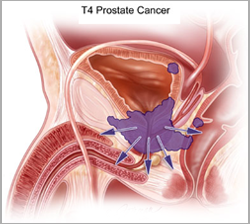 Ultrasound : If and when other tests raise concerns, transrectal ultrasound is needed to evaluate your prostate for a clear picture of the prostate gland.
Biopsy : It is the removal of cells or tissues to be viewed under a microscope. A pathologist will check the biopsy sample to see if there are cancer cells.
Bone scans and X-rays : Reveal whether the cancer has invaded the bones. Doctors inject low doses of a radioactive substance into the patient's vein, which collects in bones that have been damaged by cancer.
CT / MRI Scans : further pinpoint the location of cancer that has spread beyond the prostate.
What are the stages of Prostate Cancer?
Stage I - here the cancer is found in the prostate only.
Stage II - the cancer is more advanced than in stage I, but has not spread outside the prostate. It is divided into IIA and IIB.
Stage III - the cancer has spread beyond the outer layer of the prostate and may have spread to the seminal vesicles.
Stage IV - the PSA can be any level, the cancer has spread beyond the seminal vesicles to nearby tissue or organs.
What are the options for Prostate Cancer Treatment and Surgery in India?
High Intensity Focused Ultrasound (HIFU) - It makes use of high frequency energy to heat and destroy cancer cells in the prostate gland.When these sound waves are concentrated on body tissues, the tissues heat up and die. Specialists target the area containing the cancer.It is an outpatient procedure generally performed under local or general anesthesia. As HIFU is non surgical, there is no incisions or blood loss and recovery is quick.
Robotic Surgery - Robotic surgery for prostate cancer removal is an advanced technique whereby the robotic arms hold the surgery tools. The advantages of this surgery type are very high precision in performing the surgery and reducing the risks associated with the surgery.
Cyber Knife Treatment - In this procedure, the patient lays still and breathes normally while the CyberKnife zeroes in on the prostate and irradiates it without harming surrounding areas. The procedure is more comfortable for patients, as radiation is given accurately and treatments are completed in four to five days.
Laser Surgery - This procedure has emerged as the top choice for most patients. It is minimally invasive as all work to open the prostate channel made through the penis, is done without an incision on the abdomen. This surgery helps patients urinate better and with a good stream. The patient is able to empty his bladder fully after the surgery.In Laser Surgery for Prostate cancer, the obstructive prostate tissue is vaporized by the directed laser beam.
Radical Prostatectomy - It is the surgery done to remove the entire prostate and any nearby tissues like seminal vesicles and some nearby lymph nodes. Radical prostatectomy can be done as either open or laparoscopic surgery. The surgeon removes the prostate through a cut in the abdomen, or makes a series of small cuts instead of one larger cut. Sometimes prostate is removed through a cut in the area between the testicles and the back passage.After the prostate gland is taken out through an incision, a catheter is placed in the bladder to pass urine out of the body until the area heals.
Laparoscopic Radical Prostatectomy - A thin tube with a tiny camera is deployed. Small cuts are made near the tumor site, and thin tools remove the tumor and surrounding tissue. Patients are usually given general anesthesia that blocks nerve routes from the spine and numbs the area.
External beam Radiotherapy - This treatment deploys high radiation dose just on the area of the prostate gland. The whole of your prostate gland is treated along with an area of 1 to 2 centimetres around it.
Brachytherapy - Brachytherapy makes use of high dose of radiation reducing the risk of damage to nearby healthy tissue while destroying the tumor. Doctors place Brachytherapy seeds inside a body cavity or insert seeds into body tissue using hollow needles. It may be used alone or with radiation given externally. Radioactive seeds may be left permanently in place or removed after some time.
Hormone Therapy - Hormones occur naturally in your body and control the growth and activity of normal cells. Prostate gland cancer depends on the male hormone testosterone to grow. Lowering the amount of testosterone in the body can reduce the chance of an early prostate cancer coming back after treatment.
Chemotherapy - Chemotherapy involves drugs to kill cancer cells. It is used to treat prostate cancer that has spread to other parts of the body and is used mainly if hormone therapy is not controlling the cancer.
Cryotherapy - Cryotherapy uses an instrument to freeze and destroy abnormal tissue. Cryosurgery can be used to treat men who have early-stage prostate cancer that is confined to the prostate gland. It is less well established than standard prostatectomy and various types of radiation therapy. Long-term outcomes are not known. Because it is effective only in small areas, cryosurgery is not used to treat prostate cancer that has spread outside the gland, or to distant parts of the body.
Recovering from Prostate Cancer Treatment and Surgery India
A catheter will remain in place until your surgeon believes it should be removed, typically for 24 hours.
Patients can return to full activity within 4 weeks of the procedure. Recovery is faster for outpatient procedures, say one week.
Preventing infection in the incision helps reduce any scars you may have and decrease risk of complications in the weeks following surgery.
Incontinence is common for men after the surgery and it is common to have a catheter in place for the first week after surgery.
Risk of erectile dysfunction and impotence after surgery is significant, especially during the time immediately following surgery.
Why choose India for Prostate Cancer Treatment and Surgery?
India is recognized as the new global medical destination for Prostate Cancer Treatment and Surgery. A sea of foreign patients from all across the world come to India for medical treatments and surgeries of high quality delivered as practiced in the developed nations like the US, UK or any part of the western world and that too at the most affordable costs.
The Cancer Hospitals in India have the most extensive diagnostic and imaging facilities including Asia's most advanced MRI and CT technology. The Indian Oncologists performing different procedures of Prostate Cancer Treatment and Surgery in India are highly qualified, skilled with many years of experience and are affiliated with many renowned medical organizations.
India provides services of the most leading doctors and Prostate Cancer Surgery professionals at reasonable cost budget in the following cities:
| | | |
| --- | --- | --- |
| Mumbai | Hyderabad | Kerala |
| Delhi | Pune | Goa |
| Bangalore | Nagpur | Jaipur |
| Chennai | Gurgaon | Chandigarh |
Patient Testimonial - Prostate Cancer Surgery done in India for Mr. Jerry Botha from South Africa

Mr. Jerry Botha from South Africa

Today my Husband is celebrating her 60th birthday after a successful prostate cancer surgery done by an expert oncologist from the team of Forerunners Healthcare. Both of us want to sincerely thank you for this gift of life because you were the one who instilled hope within us that everything would be fine and by your surgery, you proved it true. We wish you and your entire team continued success and prominence in life ahead.
Prostate Cancer Surgery Cost Comparisons: India VS Other Countries (USA, UK, Thailand, & Singapore)
India is the most preferable destination for patients who are looking for low cost Prostate Cancer surgery. The cost of the Prostate Cancer Surgery in India is typically a fraction of the cost for the same procedure and care in the US and other developed countries. The cost can vary depending on type of surgery and other medical conditions of a patient.
The costs of the Prostate Cancer Surgery in various countries based on the type of the surgery required in the chart / table are given below. The price comparison is given in USD.
| | | | | | |
| --- | --- | --- | --- | --- | --- |
| Prostate Cancer Surgery | USA | UK | India | Thailand | Singapore |
| Open Surgery | $25,000 | $20,000 | $5,000 | $6,500 | $7,500 |
| Laparoscopic Surgery | $28,000 | $22,500 | $6,000 | $7,500 | $9,000 |
| Robotic Surgery | $35,000 | $28,000 | $7,500 | $9,500 | $11,500 |
| Cyberknife Radiosurgery | $30,000 | $24,000 | $6,600 | $8,500 | $9,500 |
| HIFU | $35,000 | $28,000 | $7,500 | $9,000 | $11,000 |
*The price for the Prostate Cancer Surgery is an average collected from the 15 Best corporate hospitals and 10 Top Prostate Cancer Surgery Experts of India.
*The final prices offered to the patients is based on their medical reports and is dependent on the current medical condition of the patient, type of room, type of surgery, hospital brand and the surgeon's expertise.
How to get Low Cost Prostate Cancer Surgery in India?
We have worked out special packages of the Prostate Cancer Surgery for our Indian and International patients. You can send us your medical reports to avail the benefits of these special packages.
You would be provided with 3 TOP RECOMMENDED SURGEONS / HOSPITALS FOR YOUR PROSTATE CANCER SURGERY in India.
CLICK HERE
How many International Prostate Cancer Surgery patients came to India?
The list of TOP 15 countries from where the Prostate Cancer Surgery patients travelled to India are given below. The major reason of large number of patients travelling to India for Prostate Cancer Surgery from these countries is because of availability of best doctors for prostate cancer in India, affordable prices strategic connectivity, food, tourism options, zero language barrier and many other reasons.
The maximum number of patients for Prostate Cancer Surgery comes from – UK, USA, Australia, New Zealand, Saudi Arabia, UAE, Iraq, Oman, Afghanistan, Kenya, Nigeria, Sudan, Tanzania, Sri Lanka, Bangladesh.
Here are the approximate percentage wise distributions of the patients coming from Top 15 countries to India in 2017 for Prostate Cancer Surgery.
ARE YOU ALSO A PATIENT WANTING TO TRAVEL TO INDIA FOR PROSTATE CANCER SURGERY?
You can contact us and share your medical reports with us.
Our International Patient Executive would connect with you and answer all that you need to plan your PROSTATE CANCER SURGERY in India.
We would provide you with TOP RECOMMENDATIONS and assist your with the surgery planning.
CLICK HERE
Some of the common countries from which patients travel to India for surgery are:
| | | |
| --- | --- | --- |
| USA | UK | Canada |
| Australia | New Zealand | Nigeria |
| Kenya | Ethiopia | Uganda |
| Tanzania | Zambia | Congo |
| Sri Lanka | Bangladesh | Pakistan |
| Afghanistan | Nepal | Uzbekistan |
Below are the downloadable links that will help you to plan your medical trip to India in a more organized and better way. Attached word and pdf files gives information that will help you to know India more and make your trip to India easy and memorable one.
How to find Best Low Cost Prostate Cancer Surgery and Treatment in India?

Though the options are many, it is difficult to put a finger on the best treatment option. Send us your medical reports and we will find the Best Low Cost Prostate Cancer Surgery and Treatment in India for you.

Where does Prostate Cancer spread to?

Prostate cancer most commonly spread to the bones and lymph nodes. But can also spread to the urethra, bladder, ureters and rectum.

Is it true that Black men are more likely to get Prostate Cancer?

Yes. African-origin men are at greater risk of Prostate Cancer. The reasons for this are not yet clear, but might be linked to genes.

How is Cyber Knife used to treat prostate cancer?

The Cyber Knife therapy sends radiations on the prostate destroying the cancerous cells.

What about my data Privacy?

Forerunners Healthcare Consultants do not use your personal data without your affirmation.
To get free no obligation Quote For Prostate Cancer Surgery and Treatment India :
click here
Phone Numbers Reach Us-
India & International : +91-9860755000 / +91-9371136499
UK : +44-2081332571
Canada & USA : +1-4155992537
Related Articles
prostate cancer surgery treatment cost india, cost of prostate cancer surgery india, prostate cancer treatment india, prostate cancer hospital india,best prostate cancer treatment centers india,forerunners healthcare india, low cost prostate cancer treatment india, surgery for prostate cancer in india, prostate cancer benefits india, prostate robotic surgery india, prostate cancer surgery cost, best hospitals for prostate cancer surgery in india, best doctors for prostate cancer in india